Reputation Management Services for Medical Practices
Paint a positive picture of your practice by actively soliciting happy patients for new reviews.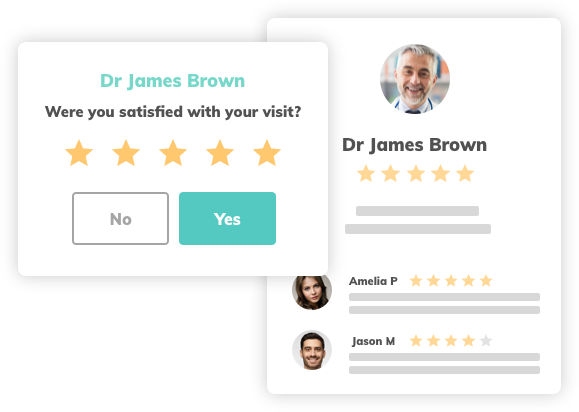 Healthcare Clients Who Trust Us






Managing the reputation of a medical practice has always been a priority. With the Internet, though, and easy access to the minutest details of a practice and reviews (positive and negative) made by current or former patients, online reputation management has become more important than ever before.
Pew Research reported that 72% of internet users looked up health information online and one in five consulted with online rankings and reviews of healthcare providers.
At Cardinal Digital Marketing, we take advantage of these statistics by promoting the positive view of your digital brand online.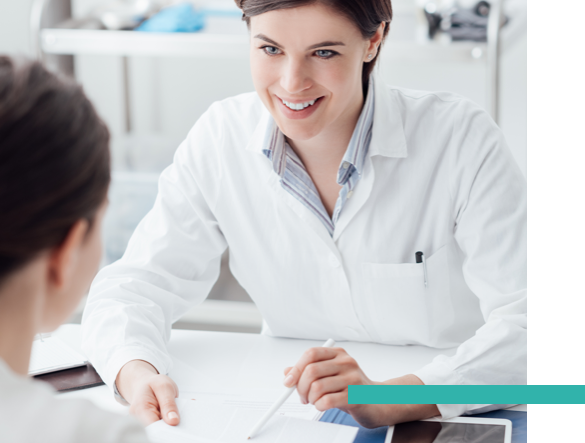 Online Reputation
Management For Healthcare
Before a prospective patient calls you on the phone or walks through your clinic's doors, she has likely already looked up your practice online. What did she find? Did she find important details about the types of conditions you treat, about the good work you're doing in the community, and glowing reviews about your services and staff?
Or, did she find unflattering comments about your practice, or you personally, that could turn potential patients away from your practice?
At Cardinal Digital Marketing, we know how to ensure that you're putting your best foot forward with review sites like Yelp.com, RateMDs.com, Healthgrades.com, ZocDoc.om and Vitals.com, in addition to utilizing social media and SEO to your reputation advantage.
We monitor, address, and mitigate social media mentions, reviews, and search engine results in order to enhance your practice's online positive image.

Why Cardinal For Your Online Reputation Management
Our reputation management services are twofold:
Proactive Reputation
Management
We help you spread the good word about your practice, community good deeds, experience, and desires to help others with positive patient reviews, important medical facts and information, and otherwise positive information on the Internet.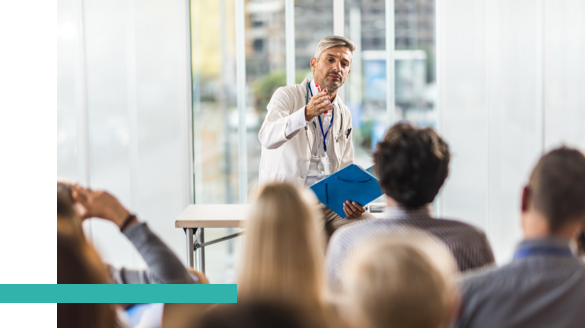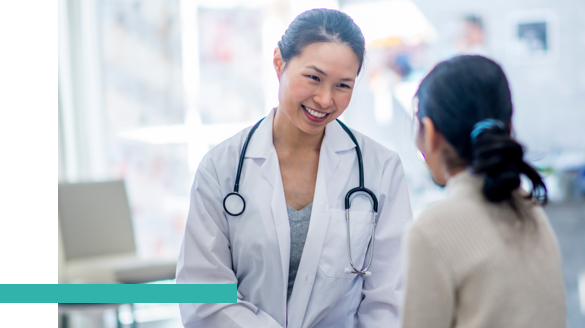 Reactive Reputation
Management
We work with you to develop a strategy for dealing with negative comments in ways to turn them into something more positive for your business. We do this through responding strategically to negative comments, for example.
More importantly, we work with you to identify, address, and monitor the core problems depicted in negative reviews, (such as long waiting room time, poor front desk training, etc.) to nip future negative reviews in the bud.
In many cases, negative comments are the result of people feeling as though they aren't being heard. We help you hear them so that you can then go one step further to resolve the issue, before the issue is placed online for prospective patients to see.
You've taken years to build your professional and practice's reputation. Don't let one negative comment snowball into a reputation nightmare for your practice. Call us today and let us help you protect your good name – and that of your practice – in a way that will draw even more potential patients your way.

Who We Serve
The face of healthcare has changed forever. Today's healthcare system is a consumer-based
entity, and healthcare providers must shift their mindsets to that of retailers.

Our Medical
Clients Love Us
"Our Google Advertising has generated over 30 leads in the last month and we have converted those into 5 surgeries."

Healthcare Clients Who Trust Us
Dental Works

40%

25%

decrease in cost per conversion
Dental Works - copy

digital leads in 9 months
100%

increase in organic traffic
Dental Works - copy

21%

increase in brand convertions
17%

decrease in branded cost per acquisition
Dental Works - copy

334%

Atlanta Brain and Spine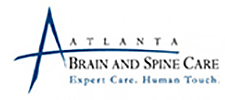 325%

increase in
leads per month
6

more surgeries
each month
Cardinal's Proprietary Marketing Technology Patient Stream's Benefits:

Double Your Patient Volume for the Same Spend
Dump the campaigns that don't generate returns. Our AI based marketing platform automatically optimizes towards the campaigns that are driving high value patients.

Executive Level Reporting
Give your CMO the reporting she didn't even know was possible. No longer do you have to report on cost per lead. With Patient Stream, you will now be able to report on Cost Per Patient.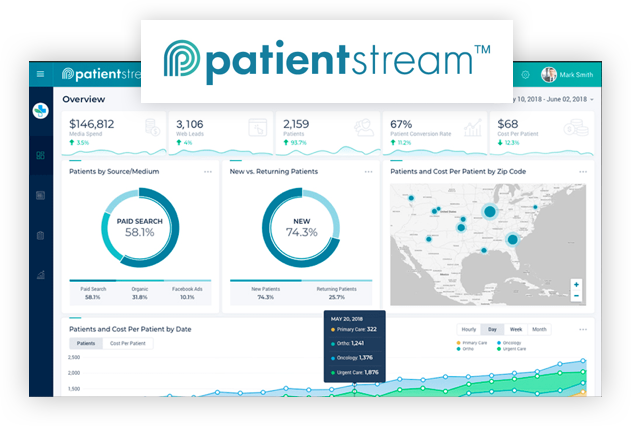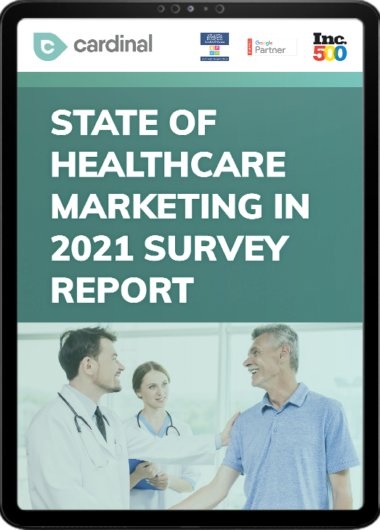 To gain a better understanding of the current state of healthcare marketing, we surveyed more than 100 healthcare marketers and executives to learn how they're navigating the post-pandemic world.
Download the full report to learn their top marketing priorities, challenges, and investments and what you need to do to stay competitive and grow your healthcare organization.
Healthcare Reputation Management
When you're considering eating a certain restaurant or availing the service of a plumber, you'll likely pull up your phone and look up reviews for that restaurant or plumbing service. True enough, 84% of customers now read online reviews – it only makes sense to read online reviews before visiting an establishment or buy something online.
This is especially true when it comes to the healthcare industry.
More and more people are relying on online reviews to look up a healthcare provider before scheduling an appointment. If you have run a healthcare facility or practice, how are your online reviews looking? This is where online reputation management comes into play. With reputation management, your healthcare business can attract more patients and increase patient reputation.
If you're looking for a reputation management service that best fits your specialization, Cardinal can help. Contact us now!
What is Online Reputation Management?
Online reputation management is the ongoing process of creating, cultivating, and maintaining your brand name and its favorable standing on the internet. Basically, it's your organization's efforts to influence what and how people think of your brand when viewed online. Reputation management goes by many names including rep management, reviews management, and brand perception.
Regardless of what you may call it, the main goal is to shape the public perception of a business or person.
For online reputation management, you're mainly building a digital public image and this generally involves online reviews. When people look up your healthcare facility or practice, you want them to find 5-star reviews and read about positive patient experiences – anything that can paint your organization in the best possible light.
In traditional public relations or reputation management, you try to bury the headlines and court the press. In online reputation management, you're implementing strategies and responding to online reviews that customers leave. The usual focus points of online reputation management are big review websites like Yelp, Google My Business, Angie's List, and many others. With good reputation management, you can highlight your positive messages to have the maximum effect.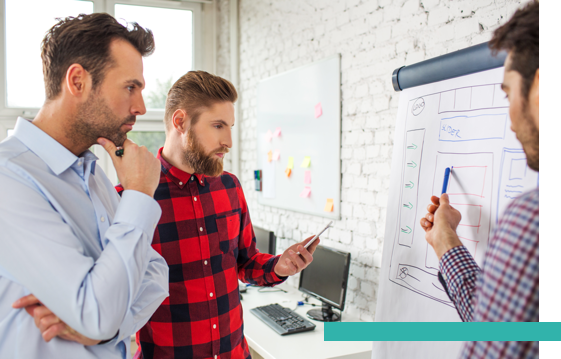 Reputation Management: The Statistics That Matter
Just how important online reviews are for healthcare businesses? Here are some interesting stats that you might want to know.
90% of customers read reviews before making a purchase. Whether it's buying a product or service or visiting a physical store, 9 out of 10 people search for reviews over the web. That's nearly everyone who cares about what the reviews have to say about a certain product or business.
A single positive review can improve the business' conversion rate by 10%. This highlights just how powerful online reviews are. Just one positive user review can drive up your healthcare business' conversions by 10%. Having a larger number of positive reviews is even more astonishing. With 100 positive reviews, your conversions can increase by up to 37%.
74.6% of healthcare consumers have looked up online reviews. Almost three-quarters of healthcare patients have relied on user reviews online. Why do people trust online reviews? Because positive experiences by others give us comfort, trust, and peace of mind. This is especially true when it comes to the topic of healthcare.
84% of customers trust online reviews as much as personal recommendations. For healthcare consumers, there might as well be no difference between online reviews and personal recommendations.
It's also interesting to note that it doesn't take that many reviews to earn a customer's trust. 68% of consumers only need 1 to 6 reviews to form an opinion about the business.
In yet another statistic for online reviews trust, 66% of Americans trust online reviews more than their former partners like ex-wife/girlfriend. This applies to both positive and negative reviews.
Having no reviews is also detrimental to your online reputation. 92% of customers are hesitant to deal with a business if it has no reviews. By getting more positive reviews, your reputation is improved which leads to more patients.
If your business is in Yelp, increasing your star rating by one can increase your revenue by 5-9%. However, this phenomenon could easily take place in other review platforms like Google, Facebook, and so on.
As for negative reviews, 60% of customers will be skeptical of the quality of the business if it has bad reviews. For local businesses, it should be in their best interest to avoid bad feedback as much as possible.
On a related note, a single negative review can prevent 35% of people from dealing with your business. This piece of information clearly emphasizes how online reviews can impact your sales.
Also, customers will not engage with a business that has a lower rating than 3.3 stars. It sounds harsh but consumers are having a hard time trusting a business with reviews that are lower than 3.3 stars. Having said that, 63% of customers don't mind paying more for a product or service if good service is guaranteed.
82% of customers are actually searching for negative reviews about a product or business. People search for negative reviews because they want to know the drawbacks of using a particular product or business. How your business deals with negative reviews will be crucial as well.
Why Healthcare Reputation Management?
Are you still wondering if online reputation management is right for your healthcare facility or practice? Here are some benefits that might just persuade you:
Good Online Reputation Can Increase Profits
Building on the significance of online reviews, a healthcare provider with positive reviews will likely attract more patients. As you can see from the stats outlined above, more positive reviews can only mean increased revenues since more people are convinced that they'll have a positive healthcare experience with your brand. On the other hand, if you can't manage your reputation, negative reviews can significantly affect your bottom line.
Helps Build Trust and Credibility
Earning and keeping your patients' trust is key to long-term success, especially in the healthcare industry. This is the core benefit of having a well-designed online reputation management strategy. If you have a reputation that's real and honest, patients will give you their trust.
Despite being in the digital age, word of mouth is still one of the most powerful methods of recommendation – only now it's all about the reviews. Customers are easily influenced by readily available information which makes reviews all that more powerful. If a patient had a positive or negative experience with your brand, they will likely talk about it. Online reputation management ensures that your positive reviews are highlighted while the negative ones will be responded to accordingly.
Higher Search Engine Rankings
With reputation management, it's like hitting two birds in one stone. Without a doubt, Google is the best platform for a healthcare business to be seen. However, Google favors positive content and will display business with the best reputation on the local first-page results. If your healthcare business appears on the first page of Google, you'll get more clicks and leads which can lead to new patients.
Part of your local reputation management strategy should be to create local profiles and listings to improve your search rankings. The higher your rank in the search engine results pages (SERPs), the easier for patients to find your healthcare business. Also, having positive online reviews will make it more likely for patients will search for your facility over the web.
Attract Better Employees
Online reviews are equally as important for attracting better employees as they are for attracting patients. According to statistics, 1 in 5 job seekers will consider working for a company or business with a 1-star rating. It's not surprising especially when people want to work at a good company that provides good service and is "going places." In addition, job seekers prefer to work in a company that shares similar core values as them – a company that they can trust.
With online reputation management, your healthcare business will put out content showing that your company has a favorable culture. Overall, companies with a good reputation tend to attract better talent.
Gain Patient Insights
The benefits of reputation management aren't just limited to how patients perceive your brand. When done right, reputation management also enables you to learn from your patients to further improve your reputation. By listening to patients and understanding their expectations and needs, you'll gain valuable insights that will enable your company to build a strong online reputation.
For starters, you can collect opinions and feedback from your patients and develop a strategy that reinforces your strong points and make adjustments based on negative feedback. Essentially, you're improving the overall patient's journey, your products and services, and ultimately, your healthcare practice.
Conflict Resolution
As outlined above, while the power of positive reviews can improve your bottom line, negative reviews can make or break your business. The way you handle reviews is crucial to maintaining or improving your reputation. This is one of the most important benefits of reputation management.
Your reputation management strategy should include responding to negative reviews. If you're thinking that you can probably just ignore one or two negative reviews about your facility, you'll be in for a rude awakening. One unfavorable review can prevent 35% of people from considering your healthcare business. It's a different story if you can quickly respond to negative reviews because it shows that your company cares. Plus, you can also respond to display malicious feedback and correct misleading information – building more credibility and trustworthiness for your brand.
Do I Need an Online Reputation Management Service?
Is it worth it to work with an agency that provides reputation management services? Whether you run a specialty clinic, urgent care facility, a hospital, or a dental office, there are many ways your healthcare business can benefit from reputation management services.
Highlight Your Unique Selling Points
One of the best reasons to hire an online reputation management agency like Cardinal is that they can highlight and expand your company's unique selling points. By getting more authentic patient reviews and feedback, you're demonstrating your facility's value to the local market.
On top of your company's business value, your reputation management team can conduct surveys, create patient polls, and more. These steps will let you know how likely patients are to recommend your practice to other people.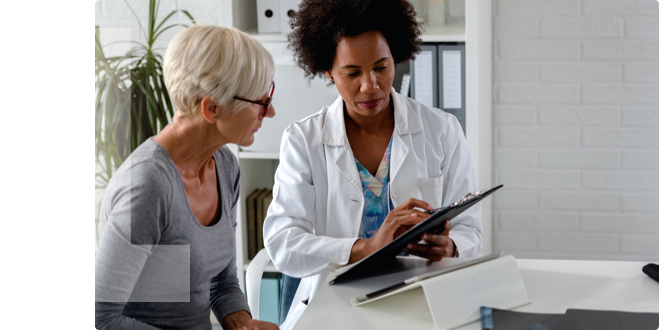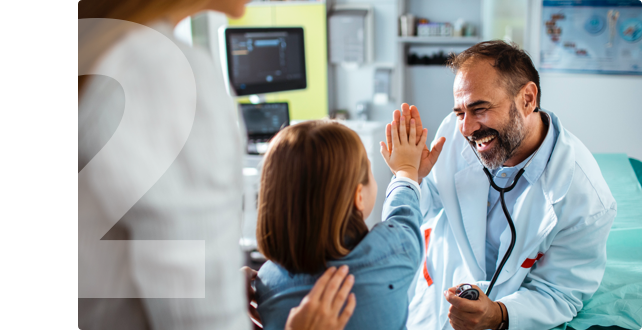 Maximize Your Time
As mentioned before, online reviews need to be responded to especially with negative ones. Otherwise, a single negative review can severely affect your ability to attract new patients. This means your organization needs to constantly monitor all reviews that you receive across all relevant platforms.
If you partner with an online reputation management agency, you can free up some precious time which is best used on operating your practice. This gives you the ability to focus on other high-priority tasks and responsibilities. The agency will take care of the monitoring of reviews in your place. Plus, you'll be assigned a reputation specialist that understands the nature and nuances of online reviews.
Build Your Social Media Presence
These days, most online conversations take place on social media. Also, almost three quarters of customers rely on social media when it comes to their purchase decisions. A good part of a solid reputation management strategy is to monitor and manage the conversations that happen in your social media accounts.
Many digital marketing agencies like Cardinal that offer many different services, so it's a one-stop marketing shop for healthcare companies. For example, if you choose to avail of social media management and advertising services, the agency can integrate them into your reputation management campaign. Whenever you receive a review or testimonial from a patient on Facebook or Google My Business, your account manager can invite them to share their feedback on your preferred social media platforms.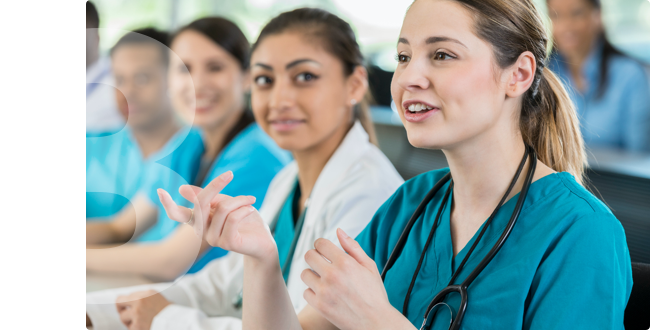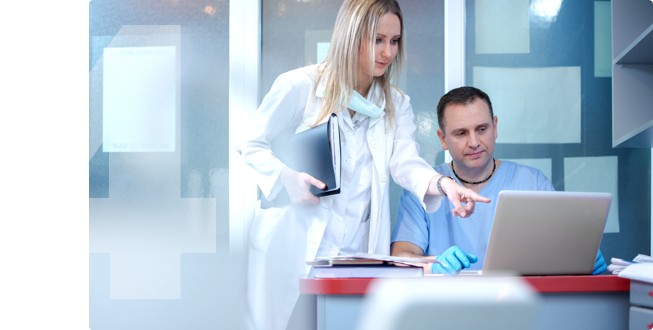 Content Development
Earlier we've talked about highlighting the best aspects of your healthcare practice. This is best accomplished by publishing relevant content surrounding your brand. One of the most important pillars of a sound digital marketing campaign is a well-realized content strategy.
Your reputation management team can help you write press releases, news, and blog posts to be posted on your website and shared through your social media platforms. This way, you're not only highlighting the positive aspects of your health organization but good content also establishes your brand as an authority, and what follows is trust and credibility.
Manage Negative Reviews
No matter how good you are in providing the best healthcare solutions and patient experience, you can't please everyone. At some point, your company will receive negative feedback from patients. How you deal with negative feedback can make or break your brand.
With the help of an agency, not only negative feedback will be monitored, they'll be responded accordingly as well. If the review is a legitimate gripe from a patient, the team will reply in the most sensitive way possible, meaning that the issue will be acknowledged, respectfully and constructively. This is a good thing because 45% of consumers are more likely to support a business if they engage and respond to negative reviews.
However, some reviews can be malicious and are only designed to spread misinformation. The agency can track the origin of the false patient reviews and have them remove from review platforms and doctor-rating websites.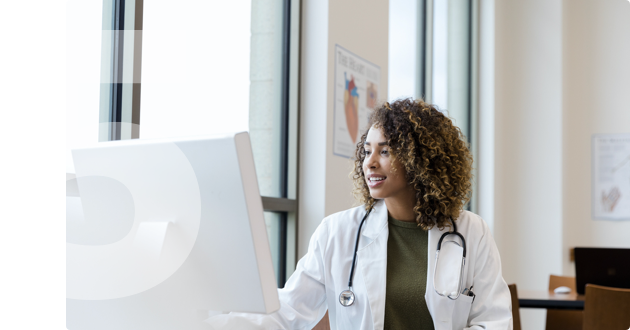 Why Cardinal Is the Perfect Fit for Your Healthcare Company
When you work with Cardinal Digital Marketing as your reputation management team,
here's what you can expect from us:
Customized Strategies
At Cardinal, we're experts in the best reputation management practices. However, it doesn't mean that we'll provide you with cookie-cutter strategies. We'll study your business and customize our strategies to align with your company's specific needs – all in the name of maximized ROI.
Dedicated Account Manager
About personalized experiences, Cardinal Digital Marketing will assign a dedicated online reputation specialist in your account. Whenever you need to ask questions about your campaign, you can trust that you'll talk to the same person every time. Yes, you'll be working with an actual human being.
Deal With Negative Reviews
We know the importance of responding to negative reviews. The internet operates 24/7, so we'll ensure a quick response time to a negative review. Our responses will be polite, professional, and will demonstrate that yours is a healthcare brand that cares.
Highlight Your Best Qualities
On the flip side, Cardinal will bring the best qualities of your brand to the forefront. Whether it's spreading the good news about your practice highlighting your current positive reviews, we'll have a proactive reputation management strategy drummed up for you.
Social Media Management
Building your social media presence is a big part of any reputation management campaign. We'll manage your social media accounts, monitor all conversations/reviews and engage your followers.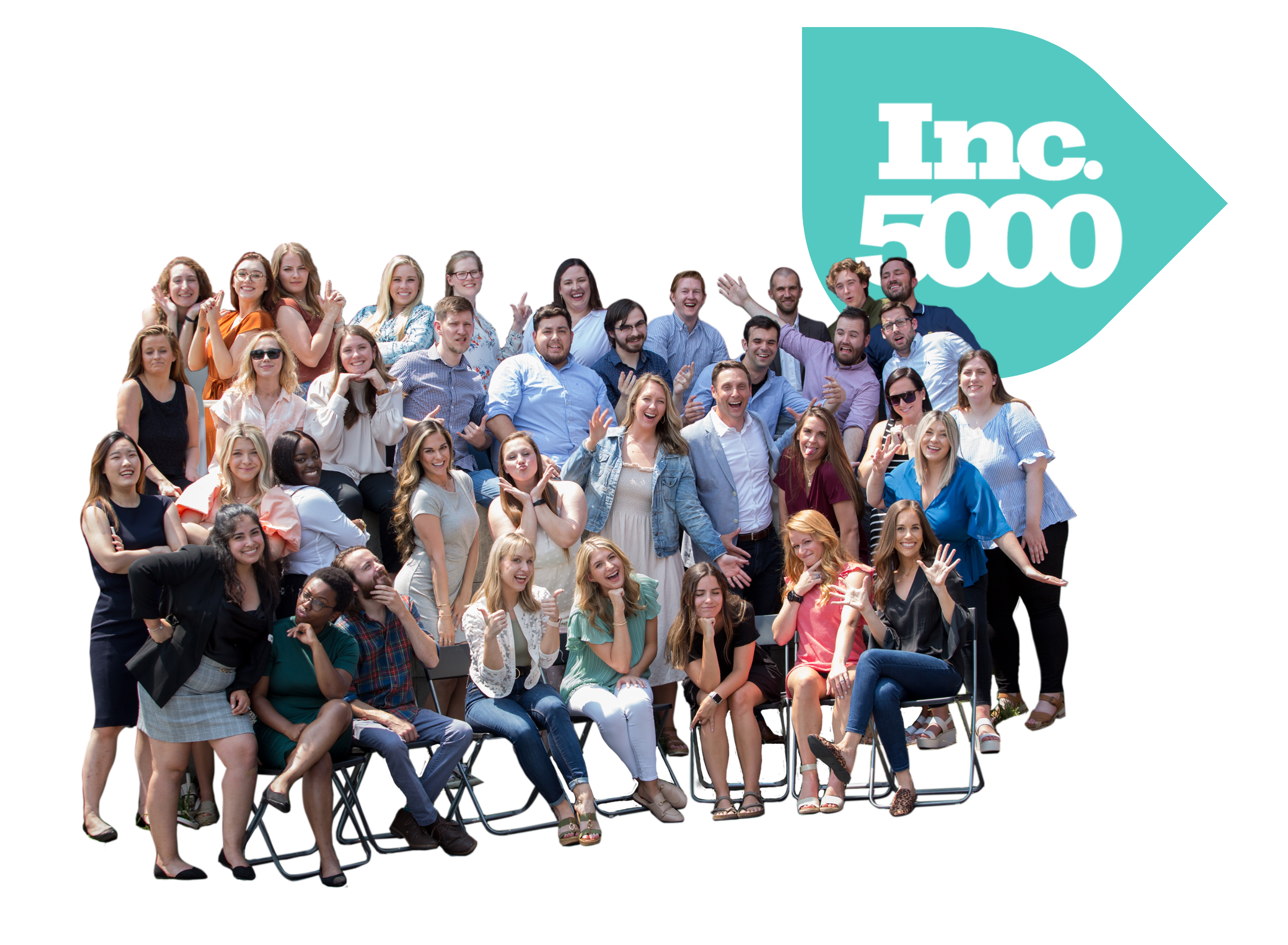 Extensive Healthcare Knowledge and Experience
At Cardinal, we have helped dozens upon dozens of specialty clinics, urgent care facilities, dental offices, and hospitals. We know the ins and outs of the healthcare business and you can leverage our team's experience to get ahead.
Ready to Rise Up on the Internet?
Fill out the form to get started!