Who We Help
We have helped grow everything from a single
primary care to large health systems.

Medical Marketing Specialities
The face of healthcare has changed forever. Today's healthcare system is a consumer-based entity,
and healthcare providers must shift their mindsets to that of retailers.

Customized Marketing Strategies For Medical Practices
Target Your Local Prospects & Turn
Them Into Your Best Patients
More than 2/3rds of internet users rely on the web to get answers to health-related questions, including who to choose for their doctors. It takes just a few seconds for your prospective patients to find a list of potential doctors, and whittle them down to the select few he or she deem worthy of their attention.
Are you doing everything you can to ensure what your
prospects find online attract them to your practice?
At Cardinal, we specialize in helping medical professionals target their prospects, turn them into leads, and convert them into patients. Using our unique approach to digital marketing – where we leverage the benefits of both paid and organic strategies – our medical clients see immediate results from our work, including increased keyword ranking, more website visitors, a greater number of qualified leads and, inevitably, more patients.
Speak To One Of Our Medical Marketing Experts Today To Learn
How We Can Help You Get More Leads And Patients Immediately!
Find, Convert And Keep New Patients
What does it take to grow your medical practice? There is no one-ring-rules-them-all solution. That's why we approach each
new project with fresh eyes and perspective. Here are just some of the marketing services we use to make our clients shine:

"The Return On Investment We Have Generated From Cardinal Has Been Incredible, We Wish We Would Have Started Using Them Years Ago!"
-Gaye P.
Digestive Healthcare of Georgia
Our Medical
Clients Love Us
"Our Google Advertising has generated over 30 leads in the last month and we have converted those into 5 surgeries."

Cardinal's Proprietary Marketing Technology Patient Stream's Benefits:
Double Your Patient Volume for the Same Spend
Dump the campaigns that don't generate returns. Our AI based marketing platform automatically optimizes towards the campaigns that are driving high value patients.
Executive Level Reporting
Give your CMO the reporting she didn't even know was possible. No longer do you have to report on cost per lead. With Patient Stream, you will now be able to report on Cost Per Patient.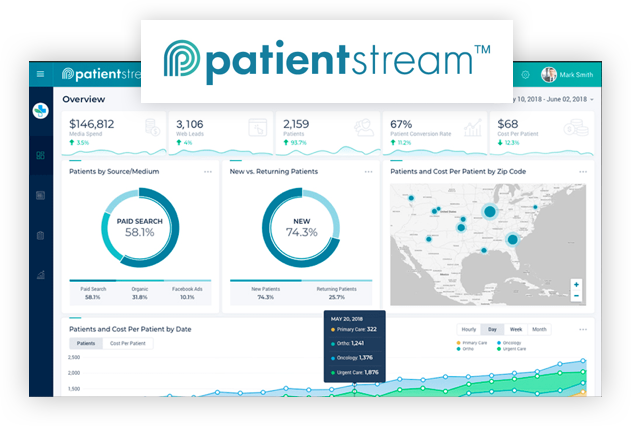 To gain a better understanding of the current state of healthcare marketing, we surveyed more than 100 healthcare marketers and executives to learn how they're navigating the post-pandemic world.
Download the full report to learn their top marketing priorities, challenges, and investments and what you need to do to stay competitive and grow your healthcare organization.
Ready to Rise Up on the Internet?
Fill out the form to get started!